Electronic recycling cycle
Are you a Waste Manager?
ARE YOU A WASTE MANAGEMENT COMPANY OR ENTITY?

Is your entity authorized for any of the Batteries and Accumulators management operations (Transport, Storage, Recovery...?

Our SCRAP can solve all your doubts and we also offer you different ways to collaborate.

Get in contact with us.
Who is a Waste Manager?
Entity, public or private, registered by means of authorization or notification before the corresponding public administration and that carries out any of the operations that make up the management of waste.
Collection System
The SUNREUSE ASSOCIATION will be in charge of the management (collection, transport and treatment) of Waste Batteries and Accumulators through authorized and specialized Waste Management companies for the management of these types of waste.
The SUN RE - BATTERY association will supply the containers and deposit and storage systems for the Waste
When the company, the distributor, the storage centre or the collection point have a significant amount of waste, they should contact the SUN RE - BATTERY association (
[email protected]
or +34963363487).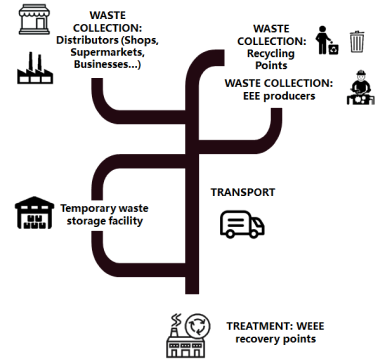 NOTE: All this waste management process has no cost for the companies involved, all management is financed through SCRAP SUN RE - REBATTERY.
NOTE: The SUN RE - BATTERY Association is in charge of managing all the Categories of Batteries and Accumulators compiled in Royal Decree 710/2015, of July 24, which modifies Royal Decree 106/2008, of February, on batteries and accumulators and the environmental management of their waste.
Work with our SCRAP
Would you like to receive compensation for the waste of Batteries and Accumulators that you manage or increase the amounts of Batteries and Accumulators managed?
Contact us and we will study together the possibilities of collaboration.
[email protected]
or +34963363487.